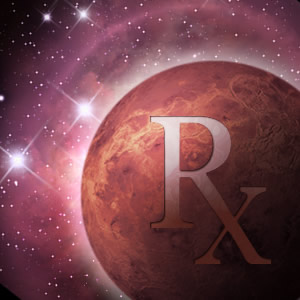 Amorous Venus is shifting into reverse on May 15, 2012, and will backpedal in the zodiac until June 27, turning relationships and romance around in the process. This retrograde cycle in the chatty sign of Gemini can reignite romances of the past and create confusion in current alliances. Taking extra time to make sure that you and the object of your affection are on the same page can help avoid misunderstandings.
Learn more by reading the horoscope for your zodiac sign below!
Aries (March 21 - April 19)
Venus' retrograde turn in your 3rd House of Communication can put you in touch with partners from the past. An old flirtation that never caught fire might show up on your radar. You may be tempted into believing sketchy stories or forgetting to include a critical fact in an intimate conversation. Double-checking critical details now will help to avoid complications later.
Taurus (April 20 - May 20)
Your usually cautious approach to finances may grow fuzzy with retrograde Venus in your 2nd House of Money. Imperfect paperwork could prove costly, yet you might reconnect with a person or organization that will benefit your cash flow. Consider alternative income-producing ideas without investing your resources until Venus turns forward on June 27.
Gemini (May 21 - June 20)
A makeover makes sense with the planet of beauty doubling back in your sign. Experimenting with different looks and exploring new ways to express yourself could make you more desirable. Still, it's more important to please yourself. Reconnecting with an old hobby or social activity is a good way to raise your morale, as is getting back in touch with past lovers and friends.
Cancer (June 21 - July 22)
You may want more privacy while alluring Venus is retrograde in your ultra private 12th House of Solitude. While it is possible that you might feel more isolated during this period, it's appropriate for you to take time away from public activity to reflect upon your relationship history and needs. A break from social activity gives you a chance to relax and return with a fresh approach to relationships.
Leo (July 23 - Aug. 22)
Friends and acquaintances are involved with Venus' retrograde turn in your team-oriented 11th House of Groups. Avoid spreading yourself too thin by over-committing yourself to organizational activities and events with your buds. This is also a time to reconsider your idealistic goals and perhaps return to a cause that inspired you in the past. Take baby steps until you've tested the waters.
Virgo (Aug. 23 - Sept. 22)
Professional relationships could become complicated with Venus' retrograde turn in your 10th House of Career. You can meet people who talk a great game, but may not be able to live up to their promises. Besides, you may need extra time to concentrate on cleaning up previous misunderstandings with colleagues, customers or potential new employers.
Find answers during Venus Retrograde! A Quick Compatibility Profile from Tarot.com reveals the real potential in your partnership.