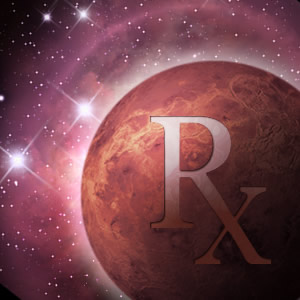 Libra (Sept. 23 - Oct. 22)
Travel plans can be complicated with Venus' backward turn in your 9th House of Faraway Places. Be extra careful with paperwork involving any trips; spending the extra money on travel cancellation insurance is wise during this 6-week period. Educational matters might also take a U-turn, complicating your studies or, perhaps, reviving interest in a subject that you considered in the past.
Scorpio (Oct. 23 - Nov. 21)
Close relationships, both personal and professional, may be complicated by Venus' retrograde turn in your 8th House of Deep Sharing. You may want to reconsider changing the terms of any agreements as conditions may have shifted since you made them. Instead of holding on due to stubbornness or an ill-placed sense of obligation, it might be time to let go.
Sagittarius (Nov. 22 - Dec. 21)
Partnerships could be altered with lovely Venus' backward turn in your 7th House of Others. Sure, it's easy for you to impress people and for them to get your attention. Yet saying "no" or at least "let me think about it" is a good way to avoid getting into alliances that are unlikely to last. Reinforcing the constructive connections that are already in place is a better use of your time.
Capricorn (Dec. 22 - Jan. 19)
Work-related issues could grow complicated with Venus' retrograding in your 6th House of Daily Routines. Charming people might lure you into activities that take more time and effort than they are worth. Getting along with others on the job could require careful conversations to smooth out some misunderstandings but investing in cleaning up old relationship matters makes sense.
Aquarius (Jan. 20 - Feb. 18)
Matters of the heart can turn you upside down with Venus' retrograde in your 5th House of Romance. The love planet's reversal here can trigger second thoughts about your object of desire. Being flirty and playful may seem innocent enough but could send signals that will be misunderstood. Be as clear as you can about your intentions to avoid misleading others or yourself.
Pisces (Feb. 19 - March 20)
Family matters that you thought were done may resurface for additional attention during this retrograde period. Venus' reversal in your domestic 4th House can stir waters on the home front that require many conversations. Rearranging and repairing your residence is a good way to use this transit as long as you manage the process with care and extra attention to details.
Find answers during Venus Retrograde! A Quick Compatibility Profile from Tarot.com reveals the real potential in your partnership.