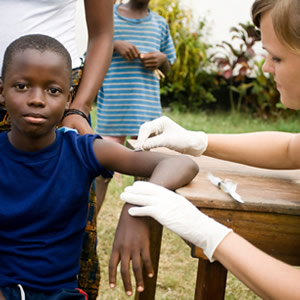 Simply put, it feels good to help. Whether you choose to provide relief for people who are suffering or find volunteer work in your own local community, there's no faster connection to Karma than volunteering -- and no better way to start the new year.
Consider your astrological traits to help figure out what volunteer activities would be most fulfilling for you, from cuddling kitties at the Humane Society to designing a website for a non-profit organization. Here's how you can best help right now:
Aries (March 21 to April 19)
Because you never sit still for long, Aries, an active form of volunteering would suit you best. You could swing a hammer for an organization like Habitat for Humanity, which helps low-income folks build their own homes, or teach survival skills to at-risk youth in a wilderness setting. Recreational activities for a camp or church group would also be right up your alley—from leading exercise classes to playing games with kids.
Taurus (April 20 to May 20)
You greatly appreciate art and culture, Taurus, and can spend hours looking at relics from the past. So, why not volunteer to spend a few hours a week as a docent at a local art gallery or natural history museum? You might also enjoy indulging your earthy sensibilities by helping to grow vegetables at a community garden or organic farm, or by grooming sheep, milking goats and cows or cleaning stalls at a 4-H Club or county fair.
Gemini (May 21 to June 20)
Put your communication skills to work to benefit your community by editing a newsletter or designing a website for a local non-profit organization. You would also be terrific at grant-writing, designing fliers and helping to put on fundraising events. And your interest in language would be put to good use by teaching ESL classes and reading to the blind or socializing traumatized dogs at the local Humane Society.
Cancer (June 21 to July 22)
Your maternal instincts would be much appreciated at a local hospital, either holding premature babies or visiting with children who've been ill or had surgery. You might also consider putting your love for food to good use by preparing and serving meals for the homeless, delivering dinner for Meals on Wheels or teaching basic cooking skills to at-risk youth. You'd also be ideal as an emotional counselor at a women's shelter.
Leo (July 23 to Aug. 22)
Because you're good at spearheading activities, Leo, why not help put on an event like a Walkathon for charity, peace march or fundraising gala dinner? Or enjoy your love of kids by leading recreational activities at a campground, donating time to a disabled ski club or helping sick kids make movies. You could also indulge your love for fun and games by playing mahjong with old folks at a senior center.
Virgo (Aug. 23 to Sept. 22)
You love to be of service, Virgo, and have a super bright mind. Volunteering at a public library book sale or organizing a fundraising event for a literacy foundation would be perfect for you. And you could put your organizational skills to work doing data entry, donation sorting and other administrative functions for a non-profit. Helping with a community garden or teaching kids how to live more sustainably are other good options.
Get more personal insight with a Celtic Cross Tarot Reading from Tarot.com.