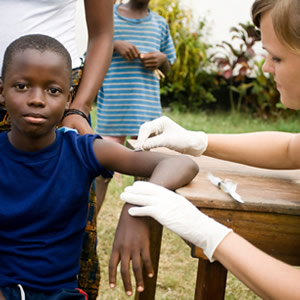 Libra (Sept. 23 to Oct. 22)
You're always on the lookout for ways to create more harmony, Libra. Teaching conflict resolution skills to disadvantaged teens or prison inmates would satisfy your desire to help balance the scales of justice. Plus, your eye for beauty and love of culture would be appreciated at a conservatory dedicated to flowers, music or art—through organizing elegant fundraising dinners or by keeping the buildings and grounds attractive.
Scorpio (Oct. 23 to Nov. 21)
You have an innate understanding of birth and death, Scorpio. Your skills would be deeply valued at a hospital maternity ward, perhaps holding preemies. You'd also be perfect for hospice work, assisting the dying to make their transition or counseling the bereaved. You likely have a special knack for helping refugees and survivors of torture, manning a crisis hotline or counseling battered women and children at a women's shelter.
Sagittarius (Nov 22 - Dec 21)
Because you love to roam far and wide, Sagittarius, a volunteer job with Meals on Wheels or delivering donations to a shelter might interest you. Teaching kids dance or archery at a summer camp would be right up your alley. Also, consider the many volunteer opportunities overseas—from helping to rebuild a village ravaged by a tsunami to teaching poverty-stricken African women how to make jewelry for income.
Capricorn (Dec. 22 to Jan. 19)
Put your business skills to use by coaching non-profit groups on fundraising, bookkeeping or management techniques. Or call on your wise parental nature to mentor incarcerated youth. You also have a great respect for the aged, so visit folks at a nursing home or help the dying to make their transition through hospice care. Also, consider patrolling your neighborhood as a volunteer police officer to help keep it safe from crime.
Aquarius (Jan. 20 to Feb. 18)
You're an animal lover, Aquarius, so you'd probably enjoy being a dog-walker or cat-cuddler at the Humane Society. Or volunteer at the local zoo to help with even more exotic creatures. Your excellent computer skills would be greatly appreciated at a non-profit group through creating databases, setting up websites, editing newsletters or helping to distribute donated computers to those who couldn't otherwise afford them.
Pisces (Feb. 19 to March 20)
Because you are so compassionate, Pisces, you could ably help to fill the need for emotional counselors at women's shelters, jails and prisons, or even a crisis phone line. You could also use your creative talents to teach dancing, drama, painting or movie-making to kids after school. Also consider reading to the blind, counseling the bereaved or helping with kids at a preschool.
Get more personal insight with a Celtic Cross Tarot Reading from Tarot.com.