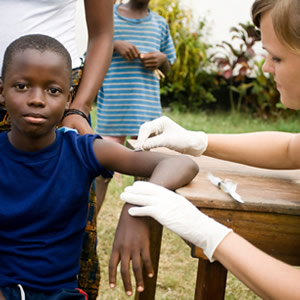 One year after the devastating 7.0 earthquake struck Haiti, volunteers continue working to rebuild the ruined country -- structurally, socially and psychologically.
Since the quake, aid organizations and non-profit groups have raised billions of dollars toward recovery efforts. The Red Cross reports they received donations totaling $479 million, including more than $32 million raised through text messaging (how's that for good mobile phone Karma?!). But so much more help still is needed.
You can help by making donations to the organizations involved in long-term revovery work, including the Clinton Foundation (which allows you to choose how your money will be spent, i.e. for medical supplies or tents); Shelter Box (which provides shelter and life-saving equipment); or MercyCorp, a nonprofit based here in Portland, Ore., where DH also is headquarted.
MercyCorp has been able to provide more than 830,000 people with emergency food, clean water, household necessities and shelter materials, plus programs for post-disaster trauma support and temporary jobs. That feels pretty good to hear, doesn't it?
Believe us, it feels even better to help. And whether you choose to help Haiti or find volunteer work in your own local community, there's no faster connection to Karma than volunteering.
Consider your astrological traits to help figure out what volunteer activities would be most fulfilling for you, from cuddling kitties at the Humane Society to designing a website for a non-profit organization. Here's how you can best help right now:
Aries (March 21 to April 19)
Because you never sit still for long, Aries, an active form of volunteering would suit you best. You could swing a hammer for an organization like Habitat for Humanity, which helps low-income folks build their own homes, or teach survival skills to at-risk youth in a wilderness setting. Recreational activities for a camp or church group would also be right up your alley—from leading exercise classes to playing games with kids.
Taurus (April 20 to May 20)
You greatly appreciate art and culture, Taurus, and can spend hours looking at relics from the past. So, why not volunteer to spend a few hours a week as a docent at a local art gallery or natural history museum? You might also enjoy indulging your earthy sensibilities by helping to grow vegetables at a community garden or organic farm, or by grooming sheep, milking goats and cows or cleaning stalls at a 4-H Club or county fair.