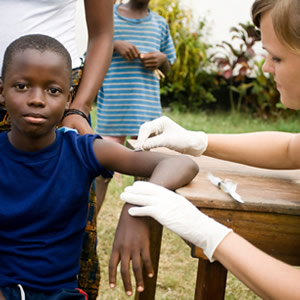 Gemini (May 21 to June 20)
Put your communication skills to work to benefit your community by editing a newsletter or designing a website for a local non-profit organization. You would also be terrific at grant-writing, designing fliers and helping to put on fundraising events. And your interest in language would be put to good use by teaching ESL classes and reading to the blind or socializing traumatized dogs at the local Humane Society.
Cancer (June 21 to July 22)
Your maternal instincts would be much appreciated at a local hospital, either holding premature babies or visiting with children who've been ill or had surgery. You might also consider putting your love for food to good use by preparing and serving meals for the homeless, delivering dinner for Meals on Wheels or teaching basic cooking skills to at-risk youth. You'd also be ideal as an emotional counselor at a women's shelter.
Leo (July 23 to Aug. 22)
Because you're good at spearheading activities, Leo, why not help put on an event like a Walkathon for charity, peace march or fundraising gala dinner? Or enjoy your love of kids by leading recreational activities at a campground, donating time to a disabled ski club or helping sick kids make movies. You could also indulge your love for fun and games by playing mahjong with old folks at a senior center.
Virgo (Aug. 23 to Sept. 22)
You love to be of service, Virgo, and have a super bright mind. Volunteering at a public library book sale or organizing a fundraising event for a literacy foundation would be perfect for you. And you could put your organizational skills to work doing data entry, donation sorting and other administrative functions for a non-profit. Helping with a community garden or teaching kids how to live more sustainably are other good options.
Libra (Sept. 23 to Oct. 22)
You're always on the lookout for ways to create more harmony, Libra. Teaching conflict resolution skills to disadvantaged teens or prison inmates would satisfy your desire to help balance the scales of justice. Plus, your eye for beauty and love of culture would be appreciated at a conservatory dedicated to flowers, music or art—through organizing elegant fundraising dinners or by keeping the buildings and grounds attractive.