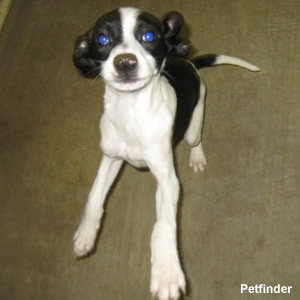 Just look at this sweet face and those pretty blue eyes -- we're in love, and the rest of the world is falling in love with Wall-e, too. The miracle puppy from Oklahoma is making headlines today for his incredible and inspiring survival story -- and for reminding us that millions of other pets are not as fortunate as Wall-e (Update: Wally now has a happy new home in Philadelphia!)
On February 18, 3-month-old terrier Wall-e and four of his siblings were abandoned at an animal shelter in Sulphur, Okla., and all five puppies were euthanized due to overcrowding and illness.
Wall-e was actually euthanized twice, once in the heart and once in the leg, and after each dog was confirmed dead, he and his siblings were disposed of in a dumpster outside the shelter.
The next morning, a miracle happened: Animal Control officer Scott Prall discovered Wall-e alive and well in the dumpster (save for a case of Hookworm). "He was just as healthy as could be," Prall told News 9 in Oklahoma City.
Veterinarian Amanda Kloski has been caring for the miracle pup since he was found, naming him Wall-e after the waste collecting robot character in the award-winning Pixar film. She also set up a pet adoption page for Wall-e on Petfinder.com where people can see pics of Wall-e, who has just been sent to live with a nice family in Philadelphia.
And you know what else you can do on Petfinder.com -- or your local shelter for that matter? Find other pets available for adoption, because Wall-e isn't the only cute critter who needs love. And we can't think of any better way to improve your Karma than rescuing and caring for our four-legged friends.
Have you ever adopted a pet? Leave us a comment and tell us, was it the best thing you ever did?!
If you like what you see on dailyhoroscope.com, please consider following us on Facebook and Twitter.