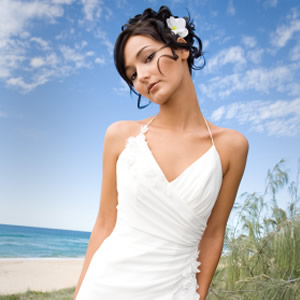 You've made the commitment and set the date -- now it's time to choose the dress! (Some of us would argue that's almost as important as choosing the groom, right?) January is all about spring and summer wedding planning, and you're no doubt pouring over the pretty pages of all the new bridal magazines out this month.
Whatever your fantasy, there's a gown to match based on your horoscope sign.
Will you sweep down the aisle in a beaded, strapless confection with a chapel-length train trailing behind you? Or will you take your vows in a simple white cotton eyelet dress on the beach at sunset? Look to your sign's style for help with your bridal gown shopping:
Aries (March 21 - April 19)
You're not very formal, so a daytime wedding would suit you best. Your gown should be lightweight and unfussy -- perhaps a sexy, strapless number or a sleek, halter-neck gown with a ribbon at the waist -- and minimal jewelry. A fuller skirt, flats instead of heels and a relaxed hairstyle will put you at ease.
Taurus (April 20 - May 20)
Because you're so tactile and adore sensual fabrics, the latest wedding gowns in silk chiffon with embroidered and jewel-encrusted bodices are made for you. Emphasize your bosom with a V-necked, empire-style dress with contrasting peach sash and a sheer, lace-embroidered veil. Or, be extra daring with an off-the-shoulder, cream-colored floor-length gown that accents your cleavage with tiny, floral appliques.
Gemini (May 21 - June 20)
With your playful, nontraditional style, Gemini, you'd look great in a silk taffeta dress with knee-length, bubble skirt accented by multiple strands of rope pearls and silver sandals. Or, sport an Edie Sedgwick-inspired white linen above-the-knee creation with lace appliqués, silver headband, dangly silver earrings and flats. For an evening affair, try a silk chiffon, rhinestone-encrusted strapless gown that shows off your shapely shoulders.
Cancer (June 21 - July 22)
Part of you yearns for a simple ceremony on the beach, wearing a long, halter dress in cotton eyelet with flowers in your hair. But another part of you has always visualized the elegant formality of an evening church wedding. In that scenario, you're wearing an empire waist, silk taffeta gown with chapel-length train and veil, Grandma's brooch or pearls setting off your décolletage. Keep the shoes comfortable, either way.
Leo (July 23 - Aug 22)
Here's your big chance to strut your stuff, Leo. Whether you opt for a less formal, daytime setting or pull out all the stops for an evening affair, you will definitely want to make a grand entrance. To go formal, a sheer, lace-back gown with elegant ruffle and upswept hair looks fresh and modern. For the latter, try a strapless corseted dress with ballgown skirt and long train, or a French Revival, beaded form-fitting gown and pompadour hairstyle.
Virgo (Aug 23 - Sept 22)
You're a flower child at heart. Picture yourself in a gorgeous garden setting wearing an ivory silk taffeta gown featuring delicate, handmade rosebuds and a tiara of fresh flowers and leaves. Or, a long, strapless organza sheath with textured daisy pattern and a fresh daisy behind your ear. Your eye for simple elegance would also be caught by a white silk faille gown with bateau neckline, button-down or lace-up back and upswept hair.
Libra (Sept 23 - Oct 22)
You and weddings go together like hand and glove. Indeed, at your wedding we're apt to find you up to your elbows in satin gloves, offsetting the satin stripes in your strapless, floral embroidered gown. For a daytime affair, be the graceful goddess that you are in a delicate silk chiffon dress with ruffled V-neckline. Or, a blush chiffon gown with garland-like ruffles, your hair adorned with a lush, pink blossom.
Scorpio (Oct 23 - Nov 21)
You're normally a private person, Scorpio. But on your wedding day, it's time to make a bold, sexy statement. You'll probably choose an evening wedding, perfect for showcasing your sultry charms with an off-the-shoulder or corseted gown featuring a full skirt and train. The full-figured among you would look especially lovely in an A-line, strapless white gown with burgundy embroidery and a sheer veil with burgundy trim.
Sagittarius (Nov 22 - Dec 21)
The destination wedding was made for you, Sagittarius. Invite loved ones to join you on a Caribbean isle, and keep it simple in an easy-to-pack lace overlay strapless gown with asymmetrical hem, silver sandals and drop earrings -- with your hair blowing in the breeze. Or, choose a long halter dress with green embroidered panels for a striking effect. A gown with contrast satin sash or lace-up back would also suit you well.
Capricorn (Dec 22 - Jan 19)
The new structured bodice gowns are perfect for your elegant sensibilities. You'll likely opt for an evening wedding, so go all out with a beaded, drop waist gown -- or keep the gown simple and buy, borrow or rent a real diamond necklace. Your upswept hair with jeweled barrettes would be perfectly accented by sheer, elbow-length gloves. Or, hold your sheer veil in place with Grandma's diamond hairpins.
Aquarius (Jan 20 - Feb 18)
Never one to follow convention, Aquarius, you may opt for something fun and different. Like, a Victorian-inspired white gown with subtle black tulle overlay and black satin empire waist. Or a 60s-style geometric-patterned sheath dress with wide satin waist and straps (just add eyelash extensions and clear bangles). You may also enjoy surprising people in an asymmetric-hemmed strapless gown in an unexpected color like orchid pink.
Pisces (Feb 19 - March 20)
Indulge your feminine fantasies, Pisces, on the most romantic day of your life. For a daytime wedding on a dramatic cliff overlooking the ocean, choose a Grecian-inspired white chiffon gown with spaghetti straps, empire waist and matching chiffon wrap. For a more elaborate evening affair, a strapless satin sheath with drop waist and pouf skirt or a lacy halter gown with purple waist sash would look fabulous on you.
Will your love last? Find out with a Happily Ever After Tarot reading from Tarot.com.