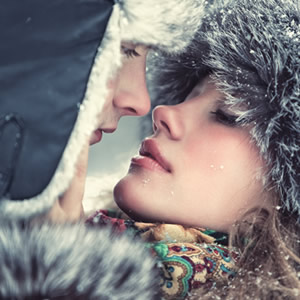 When the weather gets frigid on the outside, it's only natural to create hot and steamy passion to play with on the inside. This year, issues surrounding amorous activity will involve serious consideration as to the quality of our partners, with less importance allotted to how many people we cuddle up with to stave off the chill.
Planets concentrated in righteous Sagittarius and practical Capricorn, plus the arrival of erratic Uranus into Aries, will create equal opportunities for settling down and for acting impulsively about relationship choices this winter. Throw in two strong eclipses and a bit of Mercury Retrograde, and there's a 99.99% probability of getting real sparks to fly!
Check out your horoscope sign to see which of these influences will make the biggest impact on you and your love life, and how you can time your amorous advances just right.
Aries (March 21 - April 19)
You might not recognize yourself when you feel the effects of steady and serious Saturn in your 7th House of Relationships. Instead of rushing to the finish line, you could become much more slow and deliberate about considering to share your life with another person. This might not sound action-oriented enough for you, but this fresh and more placid attitude will add wonderful attributes to your life. Stability and dependability are just two of the qualities that make a "real" relationship appealing enough to make it a lasting one. When Saturn retrogrades starting Jan. 26, you might go back to the past to resolve a question about your future. Put off any life-altering moves until Saturn goes forward again in mid-June.
Taurus (April 20 - May 20)
Your ruling planet, Venus, will help you look for love in all the right places this winter. Starting out the season in sexy Scorpio, this flirty planet could bring a new love into your life, or make the one you already have seem more precious than ever. Settle in with your partner for the holidays, then let yourselves go wild with passion during January. In your 8th House of Intimacy, Venus will fill your head with not-so-chaste, and quite titillating, ideas for turning up the heat. A long trip could seal the deal or make you feel as though you're still on your honeymoon after Venus moves into Capricorn on Feb. 4. Savor the sweet afterglow before the outside world demands more of you toward springtime.
Gemini (May 21 - June 20)
December's Mercury Retrograde through your relationship-oriented 7th House of Partnership will make its effects known to you all winter long, whether you re-connect with someone from the past or fall in love with the one you're with all over again. You're not the type to insist on being tied down from the get-go, but Saturn's sobering presence in your 5th House of Diversions will clip the wings that normally set you about to your flitting and flirting. Formal settings will be more fun for you than ever, and if you're not with someone now, your manners and grace at a very staid affair could be what gets a romance going, particularly around the middle of December, when the Full Moon shines the spotlight on your irresistibility.
Cancer (June 21 - July 22)
The sensual side of Capricorn will get your juices flowing despite the cold. With an eclipse of the Sun in this earthy sign and your 7th House of Love taking place on Jan. 4, look for dramatic changes in the way you prioritize your love life. If you're happily attached, a major decision could be made that ties you closer together. Should you be in a relationship in need of adjustment or repair, this will be the winter when you roll up your sleeves and do the hard work. Avoid being clingy. You could find, especially with Mars also in your 7th house through mid-January, that the old adage about letting something you love go to see if it's worth keeping is more than senseless greeting card fluff.
Leo (July 23 - Aug. 22)
You might not feel all amorous and ready to roll at the start of winter, but you'll thaw out eventually! Use the time around the holidays to reflect on what needs to be done in order to make your love life more perfect than it already is. The Full Moon in your 12th House of Contemplation on Jan. 19 will make your preferences crystal clear. Opportunities to express and fulfill your needs will arise once the Sun, Venus and Mercury move into Aquarius and your 7th House of One-to-one Relationships between mid-January and early February. As spring draws near, planetary action in your 8th House of Intimacy will get you settled in and ready to exercise your relationship rights. Dive in to some bang-up, sexy times.
Virgo (Aug. 23 - Sept. 22)
You know more than most how sweet delayed gratification can be. That's why you can patiently wait for your love life to ripen into the most succulent fruit you've ever tasted, even in the dead of winter. Jupiter's stimulating influence has brought you an overdose of amorous opportunities for the last year or so, as it journeyed through your 7th House of Relationships. You may have chosen to settle down, or made an even stronger commitment to the one you've always loved. Sadly, Jupiter will move on, but the good news is, as of Jan. 22, this expansive planet will inflate your sensuality and make your sex life sizzle in your 8th House of Intimacy! Brush up on your technique and prepare for wild and sultry levels of pleasure!