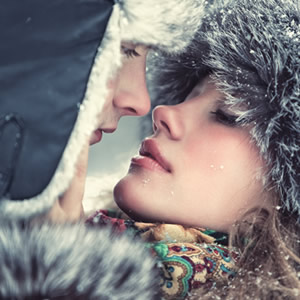 Libra (Sept. 23 - Oct. 22)
You may have the reputation of being the most romantic of the horoscope signs, but even you won't be ready for the surprises and thrills that are coming your way this winter. You'll start out calmly enough, perhaps enjoying some minor flirtations while dreamy Neptune roams through your 5th House of Dating and Diversion. But by Jan. 22, prepare to be stunned by the sheer power of your urge to merge when Jupiter makes its way into your 7th House of Partnership. Amorous prospects will be so numerous, you'll never get lost at sea. If you're already paired off, your partner will bring a boatload of passion to the table -- all you have to do is relax and ride the waves of love.
Scorpio (Oct. 23 - Nov. 21)
This time of year you tend to be heads-down at work, hoping to be as productive as possible so you can emerge in the spring, ready to date, mate and celebrate. This winter, things will be somewhat different. The fertile Full Moon that hits your 8th House of Sex and Intimacy on Dec. 21 will pack a whallop, because it's also a powerful Lunar Eclipse. From there, you'll continue to play the soft and sexy one, thanks to Venus lingering in your sign until Jan. 7. If you want to take a break from your work routine, use the persuasive talents of Pluto in your 3rd House of Communication to create fresh and funny pick-up lines ... just in case you give it a go with someone who isn't automatically mesmerized by your magnetic charm.
Sagittarius (Nov. 22 - Dec. 21)
You can be in love with the idea of love, and this winter you'll have a special need to be with someone special. Starting on Dec. 21, the Lunar Eclipse in your 7th House of Relationship will bring any questions you might have about a current liaison to a head. Don't play hard to get, because you could finally find someone who is strong and brave enough to let you be as free as you need to be. If you're already in a "forever love" kind of thing, your partner will show you the patience you need, even while Mercury retrogrades back through your sign in December. As of March 11, Uranus' arrival to your 5th House of Social Action could keep your dance card overflowing with surprisingly sexy offers.
Capricorn (Dec. 22 - Jan. 19)
You're so smart, it's easy for you to figure out the best thing to do with those long winter nights! This season, you'll have even more powers of attraction than usual, as a Solar Eclipse hits your sign and your 1st House of Image and Personality on Jan. 4. A secret you've been trying to hide -- perhaps a crush you have on someone you see every day -- may get harder to conceal. Let your feelings blossom, and by the middle of the month you could be squealing with delight under the Full Moon in your 7th House of Relationships. And just after Valentine's Day, another Full Moon will come along to create action around your 8th House of Sex and Sharing. Prepare to get happy, gratified and really, really hot.
Aquarius (Jan. 20 - Feb. 18)
You could change the way you look at your friendships and love interests this winter. Starting with the Lunar Eclipse in your 11th House of Social Interaction on Dec. 21, you'll see in the Winter Solstice with an element of truthfulness that warms your heart. If you're already in an "exclusive" situation, things will be pretty much status quo for most of the season. As you drink in the last few months of having Neptune in your sign and your 1st House of Identity, your connection to your spiritual world will continue to be important. It might be hard to give yourself totally to someone unless you sense the two of you are both deeply aware of universal love and seek out its power to heal the world.
Pisces (Feb. 19 - March 20)
Dump your reputation for being the "quiet one" and show the world how to rock winter this year. While energies in your 10th House of Work and Status make December more business-oriented than you'd like, things will begin to warm up in January. Mars moves into your 12th House of Inner Perception on Jan. 15, activating your imagination and allowing you to visualize what your "perfect love" would be like. Come Feb. 22, this fiery planet will activate your 1st House of Assertion, and anyone who's involved with you will come to see you're a force to be reckoned with. If you're not already with somebody, you'll be the one to do the picking and choosing when you acquaint yourself with a likely partner.