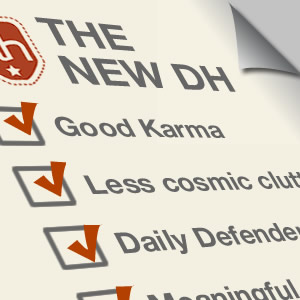 Q: Can you give us an example of a time in your own life when you've taken a negative situation and turned it into a positive one?
A: Well, believe it or not, I was voted most pessimistic of my senior class in high school. And here I am leading a team of amazingly talented and insightful employees, teaching them about the power of intuition and positive perspectives. It wasn't until I first began working with Daily Insight Group's founding company Visionary Networks that I even knew the immense power of "perspective." I had the chance to learn about myself and life through the fun and seemingly objective insights of Astrology, Tarot and the I Ching. It seemed like each week I'd be stupefied by some amazingly accurate "coincidence." I don't call them that any more. Now I connect the dots. After 11 years here, I want everyone to see how just looking at life through a different lens -- weather it's Astrology, Numerology, Tarot or whatever angle you choose -- can open your intuition up to a whole new path. You can unlock so many other aspects of your true self if you can learn to slow down, listen and be ready for it. BUT, if you get sucked into the cosmic clutter of noise in today's fast paced world, the odds are stacked against you. That's where DH comes in! We give you fun tools and entertaining ways to keep your social life social, your brain uncluttered and your future focused.
Q: What are some of the new things you're most excited about on the all-new DH?
A: What I'm most excited about is that we now can get our community more involved. Our blogs, forums and comment features are much easier to use, and our amazing content team -- specifically our famed Cosmic Reporter and our new Daily Defender -- will be really helping shape our community. Our content is going to be current, engaging, fun, relevant and easy to digest. We're not here to lecture people how to live their life. In fact, we believe only you have the answers for what you seek. We're here to talk about the stuff everyone is talking about, BUT, to make sure there is a spin of karmic goodness. Everything on DH is done with the hope that you'll say, "Wow, that was time well spent!" From 10 seconds to 10 minutes, this new site is respectful of your mindshare.
Q: Are you dreaming up even more inspiring ideas we can expect to see on DH in the future?
A: There is no finish line. It's about the journey. Cliche, I know, but it's true! There is plenty more in store for dailyhoroscope.com. We will be building more and more features and enhancements as our legion of Daily Defenders grows in numbers. We want to have the largest, most active number of users who share and want to help make sure what we do and say in this fast-paced world is adding to the Karma of the universe, not damaging it. So keep coming back. Become part of the community! We want the community to help us shape our future features, as well.
Q: Ridding the world of cosmic clutter is an ambitious goal! Do you really think DH and its readers can do it?
A: Absolutely. Astrology is powered by the universe. Its relevance and personalized filter makes it the ideal content platform for fun and non-judgmental perspectives on life. Readers will want to be part of this movement and they will see the rewards of simplifying their brain and lives! You don't even need to believe in Astrology to be a Daily Defender. Daily Defenders will fuel the universe with good intentions and Karma. And that is a contagious proposition!