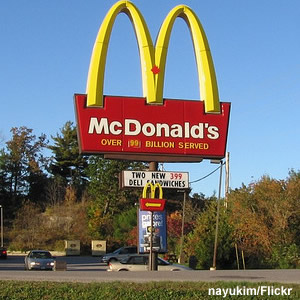 Bad Karma: Firing people. Good Karma: Hiring People! Here's one more reason to cheer for McDonald's, and we're not just talking about the eternal glory of the perfect French fry.
Today McDonald's will hire 50,000 workers to fill much-needed McJobs in its 14,000 restaurants nationwide, and they'll do it entirely in one day.
McDonald's is calling April 19, 2011 National Hiring Day, and the average pay rate for the new hires will be $8.30 per hour -- about a dollar higher than the federal minimum wage.
McDonald's hiring push may be to benefit its own publicity efforts in part, but the fact is these jobs are much needed in this tough economy. As TIME magazine reports, McDonald's will account for 15 percent of the 300,000 jobs economists say must be created each month to make a significant difference in the unemployment rate.
This is just the latest good Karma move for McDonald's, which the company estimates has employed nearly one in eight workers in the United States at one point -- and whose golden arches are the most universally recognized symbol in the world.
And before you balk about making a career in fast food, know that CNN Money reports some McDonalds restaurant managers can make $50,000 a year.
In addition to McDonalds' good economic Karma, here are 15 facts about McDonalds that will blow your mind.
What do you think, is McDonalds contributing to the world's good Karma? Why?
If you like what you see on dailyhoroscope.com, please consider following us on Facebook and Twitter.