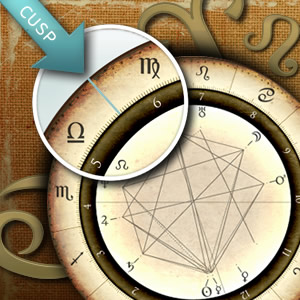 The zodiac is neatly divided into 12 equal horoscope signs, each with its clearly defined characteristics. But meanings can get messy near the borders that separate the signs. These are known as cusps, those transition zones where a planet is moving from one horoscope sign to the next.
If, for example, you were born on March 18, the Sun was in Pisces, giving you the sensitive qualities of this Water sign. But with independent Aries just days away, that Piscean sweetness may be colored with some of the assertiveness of the following sign. You're definitely a Pisces. The boundaries are clearly defined, so you don't get two astrological passports, one for each sign. But like someone living near the border of another country, it's likely that you'll have familiarity with both languages and cultures.
The two-sign influence of a cusp is stronger when a planet is at the end of a sign than at the beginning. If you have Mars, the action planet, in the last degree of solid and steady Taurus, you'll probably feel the itchy feet of Gemini coming your way. But once Mars enters the sign of the Twins (or any other sign, for that matter) the past can be quickly forgotten. So even though a planet is technically on the cusp in the last three or first three degrees of a sign, the feeling of it having a double identity is much greater finishing one sign than starting another.
The importance of having any planet on the cusp of a sign also depends on the rest of your chart. If you're a 29-degree Cancer Sun and have two planets in Leo, the next sign, the proud Lion will roar more loudly in your life. Even if you don't have anything else in Leo, planets in other Fire signs (Leo's cousins Aries and Sagittarius) or a Fire sign Ascendant, you'll be more outgoing than the average Crab.
Learn how each cusp is different
Gemini-Cancer Cusp | Cancer-Leo Cusp
Leo-Virgo Cusp | Virgo-Libra Cusp
Libra-Scorpio Cusp | Scorpio-Sagittarius Cusp | Sagittarius-Capricorn Cusp
Capricorn-Aquarius Cusp | Aquarius-Pisces Cusp | Pisces-Aries Cusp
Aries-Taurus Cusp | Taurus-Gemini Cusp
Learn more about your birth chart with Astrologer Rick Levine:

Find out your true Sun sign with a personalized Essential Birth Chart Report from Tarot.com.